Noratel Safety Isolating Transformer PDS24-21224-M3P 24VA
Noratel Safety Isolating Transformer PDS24-21224-M3P 24VA
Regular price

Sale price

€15,00

Unit price

/

per
Share

Link copied to clipboard!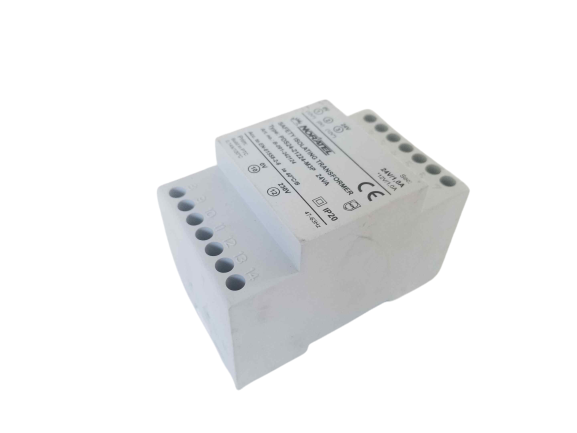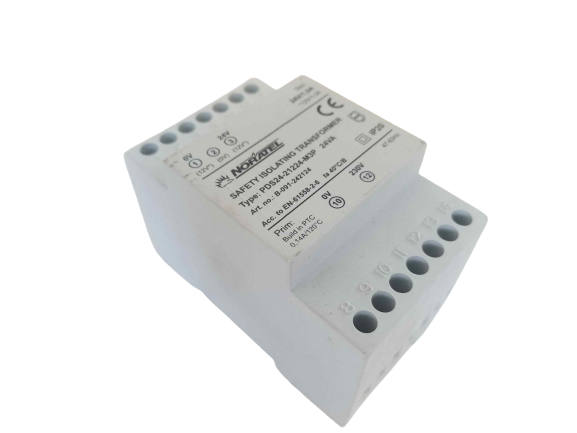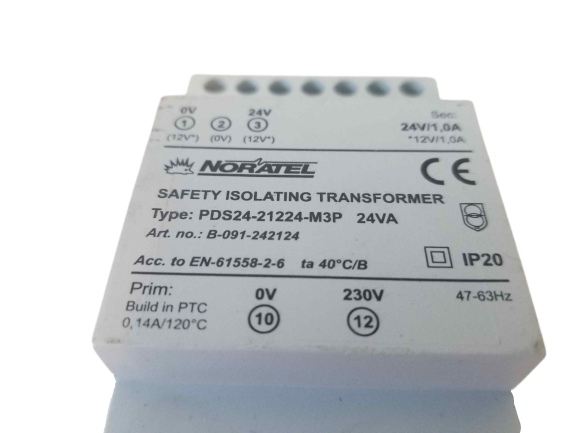 1x Noratel Safety Isolating Transformer PDS24-21224-M3P 24VA

TYPE PDS24-21224-M3P
PHASES 1
FREQUENCY 47 - 63 Hz
PRIMARY VOLTAGE 230 V
SECONDARY VOLTAGE 12-0-12 V
SECONDARY CURRENT 1,0 A
POWER 24 VA
TYPE OF PROTECTION IP20
DIMENSIONS
WIDTH 54 mm
DEPTH 90 mm
HEIGHT 62 mm
WEIGHT 0,6 kg
ORDERING INFORMATION
ARTICLE NO B-091-242124
EAN NO 5703451016136

Compact single-phase safety isolating transformer for 35mm DIN-rail mounting. Designed and tested according to norm EN61558-2-6. Separate windings. Insulation class II, double isolated. CE approved. Short circuit and overload protected with built in PTC fuse. The transformer is capsulated in plastic. Easy "snap on" mounting on 35mm DIN-rail.
PDS10 and PDS24 are designed with two 12V secondaries in series. PDS40 and PDS63 are designed with two separate 12V secondaries for parallel- (12V) or series- (24V) connection.
Designed for SELV-installation which require safety isolating transformer approved according to the CE directives. Typical alarms and automatic remote controls. PDS are designed to fit module mounting.